The Stand Up Paddle Course in Djerba, a sporting activity accessible to all and which will bring you the strongest sensations, from an early age!
Tunisia Travel Guide offers training courses in kitesurfing (initiation or improvement, lagoon or sea), but also complete and adapted formulas which include quality accommodation.
At first, you will go on short outings on a calm body of water. So you will need stability. You will need a wide and thick stand up paddle (also called "sup" or "paddle").
There are two types of stand-up paddles: symmetrical paddles often used by beginners, and asymmetrical paddles. If you are new to paddleboarding, we advise you to opt for a symmetrical model, you will not have to worry about the direction of your paddle.
For more durability, a model with an aluminum height adjustment system will do just fine. A little extra: if you choose a removable paddle, it will fit in your inflatable paddle bag!
Finally, don't forget a buoyancy aid if you are not comfortable in the water.
But this course is not just a simple technical learning of kitesurfing but also new encounters, new adventures, new sensations and a discovery of this charming island.
This Kitesurfing course for all levels is done in the best spots on the island of Djerba. Experienced and IKO certified instructors (International Kiteboarding Organization): learning, support and level improvement.
Professionals passionate about this sport are happy to welcome you to share great moments with you.
Come and discover our courses.
Ideal for all SUP beginners, we teach a first introduction to SUP on how to stand up and paddle, then we take a short cruise on our beautiful lagoon. Perfect choice for families with children and for those who want to experience Stand Up.
From 12 years old
Djerba kitesurf spot
Lifeboat
Private beach
Transport included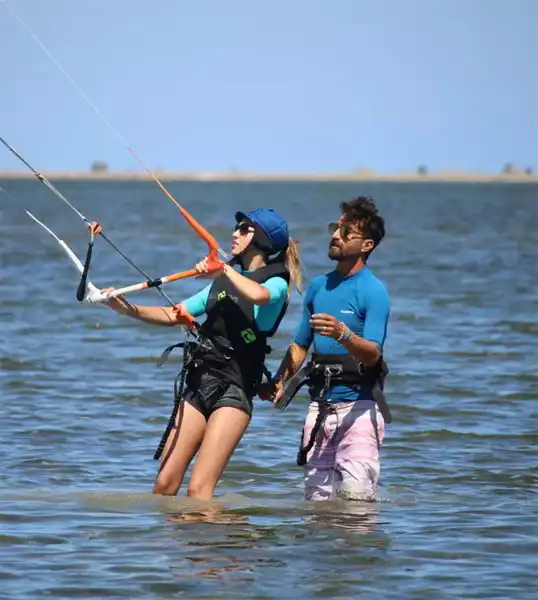 ALL-INCLUSIVE PACKAGES
"No surprises"
All equipment is provided, paddle, board leash, vest, wetsuit, dry bag
Stand Up Paddle Course in pictures