Kitesurf Holidays with Accommodation
Kitesurfing holidays with Accommodation in a Bed and Breakfast in Djerba, is a sporting activity accessible to all and which will bring you the strongest sensations, from an early age!
Tunisia Travel Guide offers training courses in kitesurfing (initiation or improvement, lagoon or sea), but also complete and adapted formulas which include quality accommodation.
Kitesurfing Holidays with Accommodation in a Guest Room in Djerba is not just a simple technical learning of kitesurfing & Stand Up Paddle but also new encounters, new adventures, new sensations and a discovery of this charming island.
Kitesurfing Holidays with Accommodation in a Guest Room for all levels in the best spots on the island of Djerba. Experienced and certified IKO (International Kiteboarding Organization) instructors: learning, support and level improvement
KITESURF HOLIDAYS WITH ACCOMMODATION IN A GUEST ROOM
The Adventure Kitesurfing Holidays with Bed and Breakfast Accommodation gives you the opportunity to organize all your kitesurfing holidays with us.
You don't have to worry about wasting time visiting dozens of pages on the Internet looking for accommodation, for a group, a couple, a family. We collaborate with several guesthouses, hostels, hotels and private apartments.
The accommodations have been carefully selected, there are different rates, we guarantee you the best qualities. All you have to do is pack your bags, we'll take care of the rest.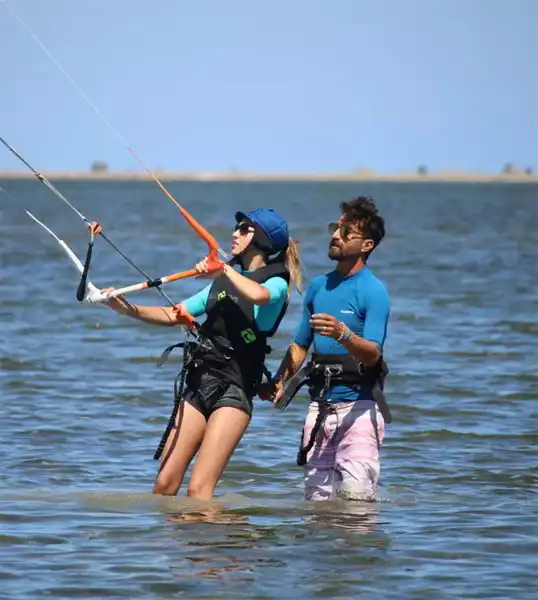 Civil Liability Insurance
7 days / 6 nights in a beautiful LPD guesthouse
6 half-day kitesurfing lessons with all equipment included (1 trainee)
Stand Up Paddle available at the club
2 yoga sessions offered by our kitesurf school
Airport transfers
Daily spot / accommodation shuttle
Lots of outings to restaurants, bars, island tours, shopping…
BBQ night
Price for a kitesurfing trainee

PS: We remain at your disposal to establish quotes according to the number of trainees and guides, and according to the accommodation you want.