Advanced Kitesurfing Course
The advanced Kitesurfing Course in Djerba is a thrilling sporting activity that caters to individuals of all ages, offering an exhilarating experience like no other!
Tunisia Travel Guide provides comprehensive kitesurfing training courses suitable for both beginners and those seeking to enhance their skills. Whether you prefer the calmness of the lagoon or the excitement of the open sea, we have tailored options to suit your preferences. Additionally, our packages include top-quality accommodation to ensure a comfortable stay.
This course offers more than just technical kitesurfing and Stand Up Paddle instruction. It is a gateway to new friendships, exciting adventures, unforgettable sensations, and an opportunity to discover the enchanting charm of this island paradise.
Irrespective of your skill level, our courses take place at the finest locations on the beautiful island of Djerba. Our instructors are experienced and certified by the IKO (International Kiteboarding Organization), guaranteeing exceptional learning experiences, continuous support, and the opportunity to improve your skills.
Advanced Kitesurfing Course
If you are ready to get more advanced and ready to learn more about the art of kitesurfing! Learn to master riding in all directions as well as basic jumping techniques! Learn how to help your friends with board recovery! Our instructor will show various techniques like how to jump and how to save another rider and his board. Theoretical topics will include how to better assess your riding location, kiteboarding safety and more on how to trim your kite.
From 12 years old
Djerba kitesurf spot
Lifeboat
Private beach
Transport included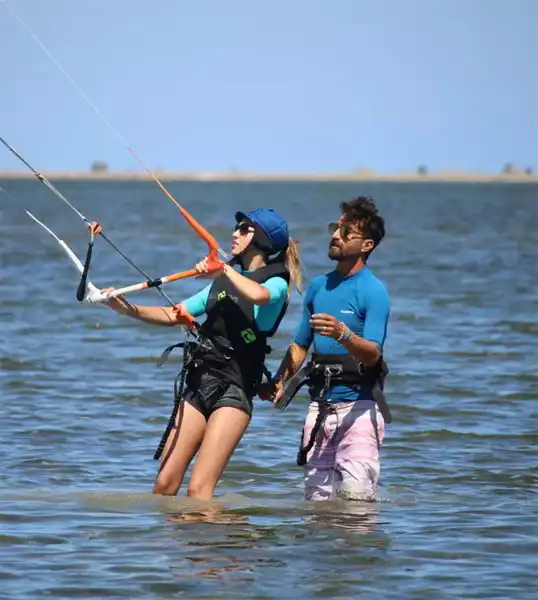 Equipment provided : 50 €
With your own equipment : 35 €
For group lessons you are max 2 per Monitor and Kite